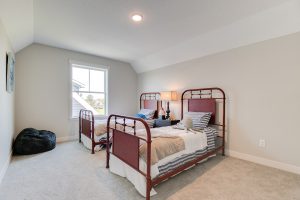 Lionheart's top four tips for staging kid's bedrooms!
1) CLEAN AND DECLUTTER
As with staging other spaces in your house, staging a child's bedroom begins with putting away personal items (photos, clothing, etc.) and excess toys, clutter, and decor. Also take care of any necessary repairs and cleaning, such as removing scuff marks or drawings on the wall to make a nice blank slate for staging. It's likely that potential buyers' kids have messy rooms in their existing homes, so a mess is the last thing they would want to be reminded of in your property! If you and your children are still living in the home when staging, this can be a challenge. Try relocating extra items to a closet or basement or using in-room storage solutions like storage cubes or chests.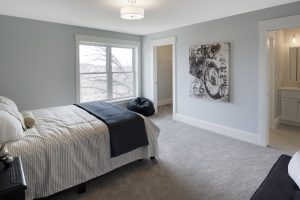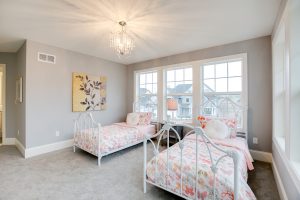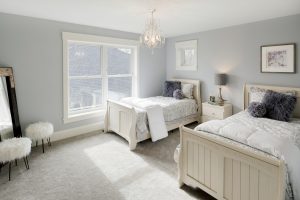 2) MAKE SURE THE BED FITS THE ROOM 
Oftentimes secondary bedrooms are on the small side, so a twin sized bed may be appropriate for staging. However, if the room is larger, consider placing double twin beds to fill the excess space, especially if the families of target buyers might be younger. A queen sized bed would also work but might be more suitable if you are presenting the bedroom as a guest room or a room for older children.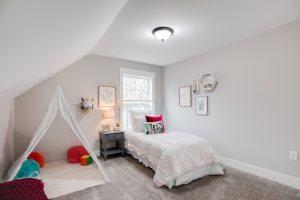 3) CREATE A SECONDARY ACTIVITY AREA 
Although the primary purpose of the room would be for sleep, more often than not, buyers are also looking for a space for their children to play, do homework, and relax. Foster a sense of fun and creativity in the space by designing a secondary activity area. This could be done with a beanbag chair and fun pillows or a small desk with a reading lamp. At Lionheart, we love using a play tent to accomplish this purpose.
 4) INCORPORATE A SUBTLE THEME
A children's room is the perfect place to have a little fun with a more playful theme than the rest of the house. Just remember to keep the theme subtle! For example, not every family may want dinosaur, princess, or superhero themed wallpaper/bedding/light fixtures. Large and permanent themed items could be a big distraction, but a few themed decorations or pillows sprinkled in over palate of neutral walls and bedding would add a whimsical element with out being overwhelming.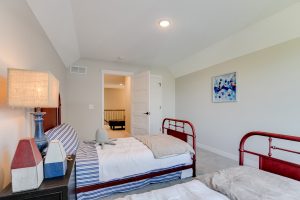 Although it's not necessarily the highest priority room to stage, staging a kid's bedroom is a good idea if the house is large and you are anticipating a young family buying it. Have fun creating these fun spaces!